The Rising Challenge for College Coaches: Shorter Timelines to Recruit Their Prospects
We've changed the contact periods, but kids still maintain their old mindset
As we've been working the clients and subscribers these past few months, one clear theme has emerged regardless of division level and sport:
How should our strategy change with the new recruiting timelines and contact period restrictions put in place by the NCAA?
Many of these conversations were prompted by the latest recruiting timeline change instituted by the NCAA, now allowing Division I contact to begin on June 15th prior to a prospect's junior year in high school, with official visits being ok'd for August 1st prior to their junior year.
This is the latest in a series of moves, resets and rules instituted by the NCAA over the last few years that were designed to curb early recruiting pressures for the student-athletes. But has that been the result? How has it changed the student-athletes' approach to the process? And, more importantly for this audience, how are coaches going to need to adapt to be successful in this new landscape?
---
First, understand that your prospect's mindset has largely stayed the same through the new NCAA timeline changes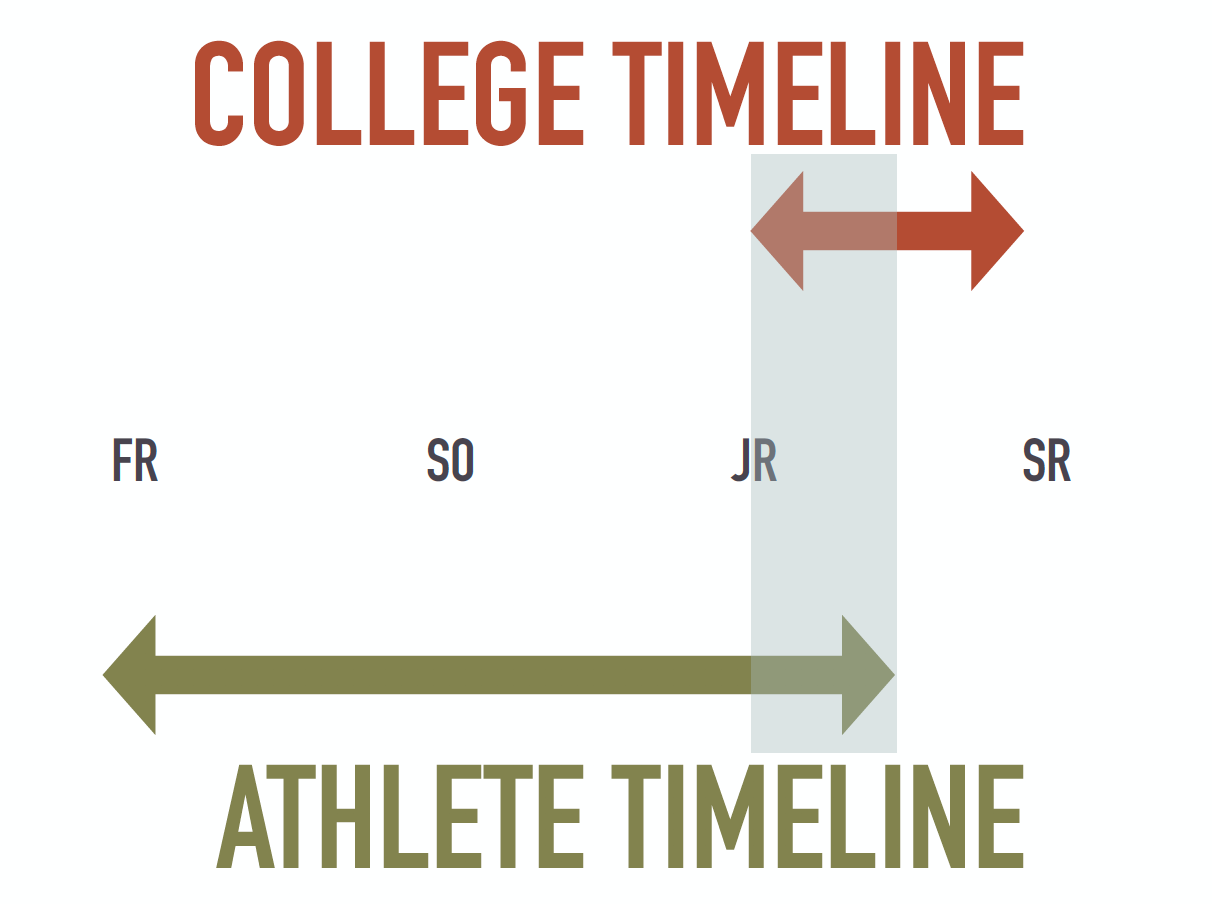 This was one of the slides I first shared with the College Swimming & Diving Coaches Association of America convention back in 2017, shortly after it was announced that no contact was going to be allowed between coaches and prospects until the start of their junior year.
The lessons here have the same basic application to the latest timeline changes coaches are now dealing with.
In ancient times, when athletes could visit your campus unofficially whenever they wanted and you could pass secret messages through club and high school coaches at will, I'll argue that a mindset among the athletes and their parents was established: Good athletes got offers early, and verbally committed early. At the latest, the bulk would be committed by sometime early or midway through their junior year (certain sports excluded, of course, like baseball, some track and field, and others that rely upon times, marks or draft possibilities).
This mindset, represented by the green timeline arrow in the illustration, hasn't changed today. The majority of upper-tier athletes expect to be recruited early, and want to verbally commit early if it's the right program in their eyes.
The challenge? Unlike in ancient times, when college coaches had the option of offering a scholarship as early as they wanted, and kids had the choice to commit whenever they wanted, we adults have restricted when the process can start, and when it will finish. That's represented by the red timeline arrow.
That gray area over both timelines is the one you need to pay attention to, Coach.
Even though your prospects technically have more time to make their decision, we've seen their old timeline mindset remain. If they're a good athlete, the majority feel like they should commit earlier, not later. I'm not making a case that this is the 'right' way to do it, I'm telling you that's the way we see it happening way more often than not.
And that's where many (most?) college coaches are falling short when it comes to recruiting.
---
You have a LOT less time to recruit and get a commitment
Jump forward to our brave new world in 2020:
Last fall, several D1 and high level D2 programs who we work with outlined their new reality as they prepared for last year's fall seasons: They needed us to develop a recruiting plan, with messaging, for a 30 to 45 day recruiting process. Start to finish, 30 to 45 days.
As it unfolded, we saw an entire two year recruiting cycle condensed into a month or so. First phone calls happened, visits to campus a week or two later, intense contact for the remaining two or three weeks, and then a decision.
Why would an athlete and his or her parents voluntarily choose to make this decision to radically shorten their recruiting process?
Because they're good athletes, and good athletes commit early.

Because the market - competing Division I and Division II schools - were all telling them the same thing, driven by fear of how early their competitors were going to be asking for commitments and wrapping-up their process with the best recruits: "We're going to be done in the next week or two, and we need a commitment by then."
With the new NCAA rules put in place and taking effect this spring heading into the new June 15th first contact period, what was applicable to a handful of certain sports and division levels will now begin spreading to more and more college sports, conferences and division levels.
---
How will this affect Division II, Division III and NAIA?
From a rules standpoint, not much.
However, it's important to keep in mind that your prospects - many of whom think they are Division I caliber prospects who just haven't been discovered yet - want to find a place to call home. They see how their upper-tier prospects who happen to be their friends on their club volleyball team, high school football team, and travel softball team are pursued by college coaches.
And understandably, a little jealousy creeps into their outlook, as well as that of their parents.
"I'm almost as good as she is. Why am I not hearing from coaches?"

"My son busts his butt just as much as that kid does. When will be hearing from coaches and getting asked to visit campus?"

"I see two of my club teammates wearing their college sweatshirts around high school and it ticks me off. And, it stresses me out. Am I going to get a chance to play in college?"
This is important to understand, Coach: The D3 prospect's brain isn't wired any differently than the D1 prospect's brain. They've been working towards the goal of playing sports in college, and getting money to do so, and are anxious to be pursued. Why wouldn't you want to be the coach who shows that you're interested in them as early as possible? (Side note for NAIA coaches, who basically have no rules when it comes to recruiting timelines: Why in the world would you not be taking advantage of that freedom and recruiting kids starting late in their freshman or early in the sophomore year in order to develop their first relationship with a college coach?)
Just so that we're all on the same page here, take a look at the new timelines being put in place for Division I recruiting: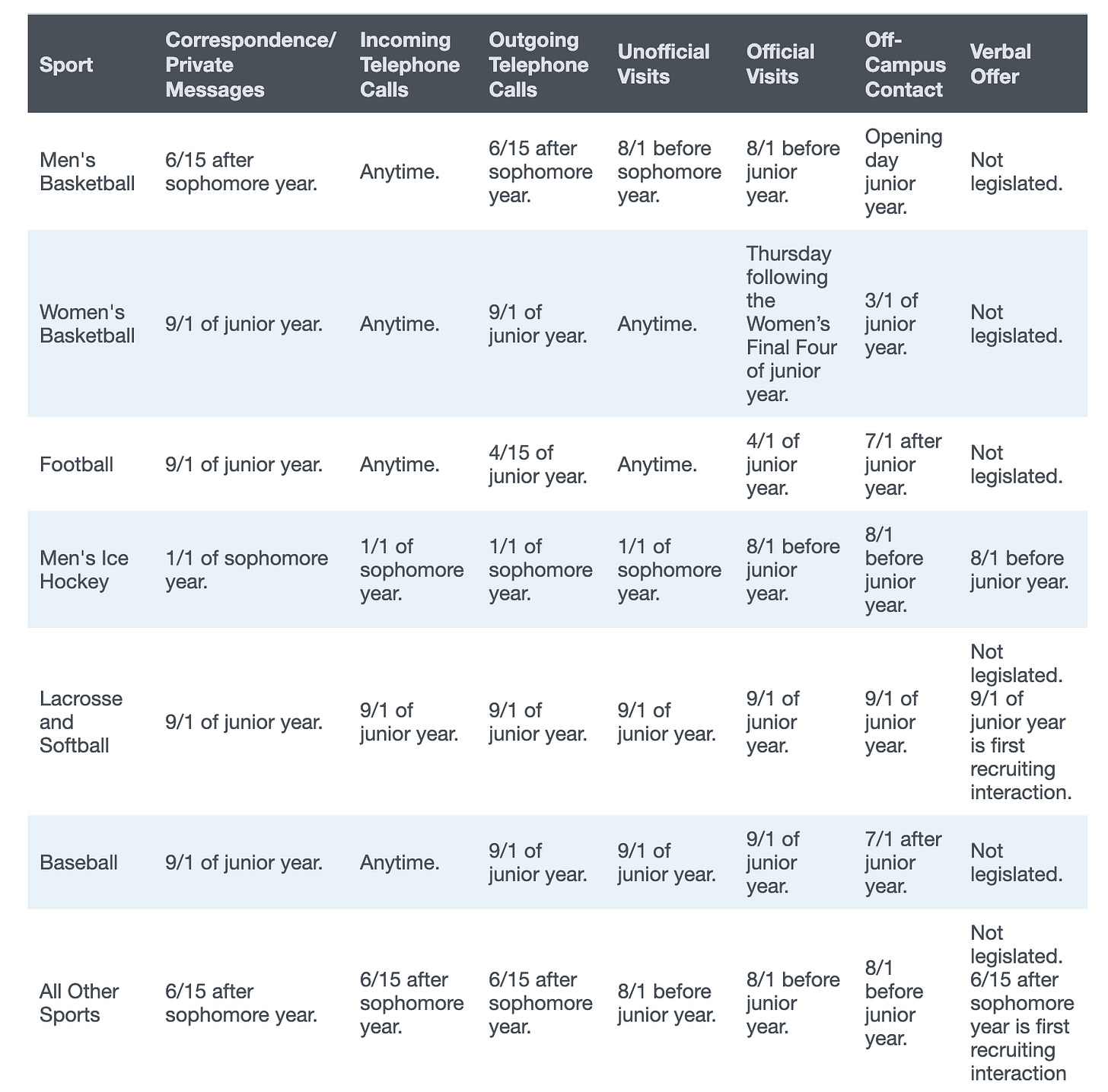 ---
What recruiting success is going to look like in 2023
Division I recruiting success won't largely be defined on who you sign in that condensed, pressure-packed 30, 45 or 120 day window that will naturally evolve in your sport.
Division I recruiting success will be determined by who keeps their recruits after the early verbal commitment.
You think de-commits are happening a lot now? Let's talk again in two or three years.
College coaches, at all levels (but certainly those in Division I and Division II), will need to develop and manage a much more robust, detailed and ongoing recruiting messaging and contact plan for that short decision-making period and for the 12 to 18 months afterwards leading-up to the prospect signing their Letter of Intent. Not continuing to recruit a prospect after they verbal will be career suicide.
---
Developing new recruiting strategies for this new decade
There are going to be a lot of different approaches recruiters will take as this all unfolds soon, and I'm certainly not going to make the claim that we have all the answers. We have a lot of them, but no process or approach is perfect, and some coaches will accidentally stumble upon a process that works for them, and them alone. Good for them.
For coaches driven more by systems and methodology, I'll suggest that there are two foundational strategies you'll want to implement in your program, regardless of division level:
Showcase how your program is better from others they might be looking at early on. One thing we've seen play out in condensed recruiting timeline examples is a desperation on the part of the recruit, and his or her parents, to not only define a program, but to determine how they might be better than the other options out there. The story you tell in the letters, emails, personal contacts and social media posts is vital now, and it's going to be even more vital as the quickly try to define you as a brand.

Have a detailed understanding of their timeline, and make sure they are agreeing to an understanding of when your timeline ends. When time is short, communication about mutual expectations is key. You have to be the one to drive that understanding, Coach. Take control from the first conversation, and make sure you mutually agree throughout the condensed process as to what the expectations for a final decision is.

---
We'll be covering more strategies on how to effectively move forward with these new strategies, as well as additional training on specific communication strategies that will be important in the future, and will also work now. If you're a client or Honey Badger Recruiting subscriber, look for those in the next few posts. If you aren't a subscriber, give it a try. 95 cents a day is a pretty inexpensive investment into your recruiting and coaching career.
Also, consider attending this summer's National Collegiate Recruiting Conference. It's three days of your fellow coaches, ADs, authors, experts and speakers gathering together to share what's working for them, new strategies and fascinating insights.