The Unexpected Coronavirus Recruiting Trend
This crisis is changing the way your prospects are thinking, and some college coaches are taking advantage of the opportunity...

I'm not saying it's good, nor am I suggesting it's bad, but there's a clear recruiting trend developing among many college prospects during the height of the coronavirus outbreak:
They're committing earlier.
And, if they haven't yet, they're seriously thinking about it. And this trend is going to drastically alter the have's and have nots when it comes to stockpiling talent in the next recruiting class.
The recruiting equivalent to hoarding toilet paper
I just counted, and as of this publication, the Tudor house has 59 rolls of toilet paper on hand. I think we'll get through this just fine. How did we happen upon all of this paper gold? My sweet wife, fearing a shortage, did what most of America did and bought extra toilet paper, because if she didn't, there was a chance she would miss out on getting some. And, she was convinced that was the case, because she saw the story unfolding among her friends and contacts on social media.
Once the dominos started to fall, it was inevitable that the Tudors would own their share of this pandemic's most coveted item.
The same thing is happening in college recruiting, Coach.
It's changing the recruiting trajectory at BCS schools like Rutgers University in New Jersey, where they're football program is seeing a shift in decisions because of recruiting limitations brought on by the crisis:
"Coaches from opposing schools aren't allowed to fly and can't visit recruits at their schools. They can't watch them train, and chat with coaches, teachers and guidance counselors face-to-face -- key recruiting components.

Conversely, top players can't fly out-of-state, preventing outside schools from wooing recruits with facilities, food, and presentations. Commitments usually occur on visits, which hurts such schools since recruits can't get to them. Even if they wanted to.

Take, for instance, Winslow (N.J) Township DB Jalen Cheek, who's been offered by Rutgers and, at least, 12 out-of-state schools.

"Potential visits have been postponed due to the virus," Cheek, a three-star recruit, who may not be able to visit out-of state schools before his decision date. "I'm looking to close in on a school around June-August."
And, it's altering the way small schools are starting to get decisions from prospects, who are now nervous that they aren't going to be seen and can't reach out and visit schools like they were planning on doing, resulting in some anxiety about their future.
Here's a text message I got from one of our clients who we've been helping maneuver through these last few weeks by making sure the right message is going out to recruits: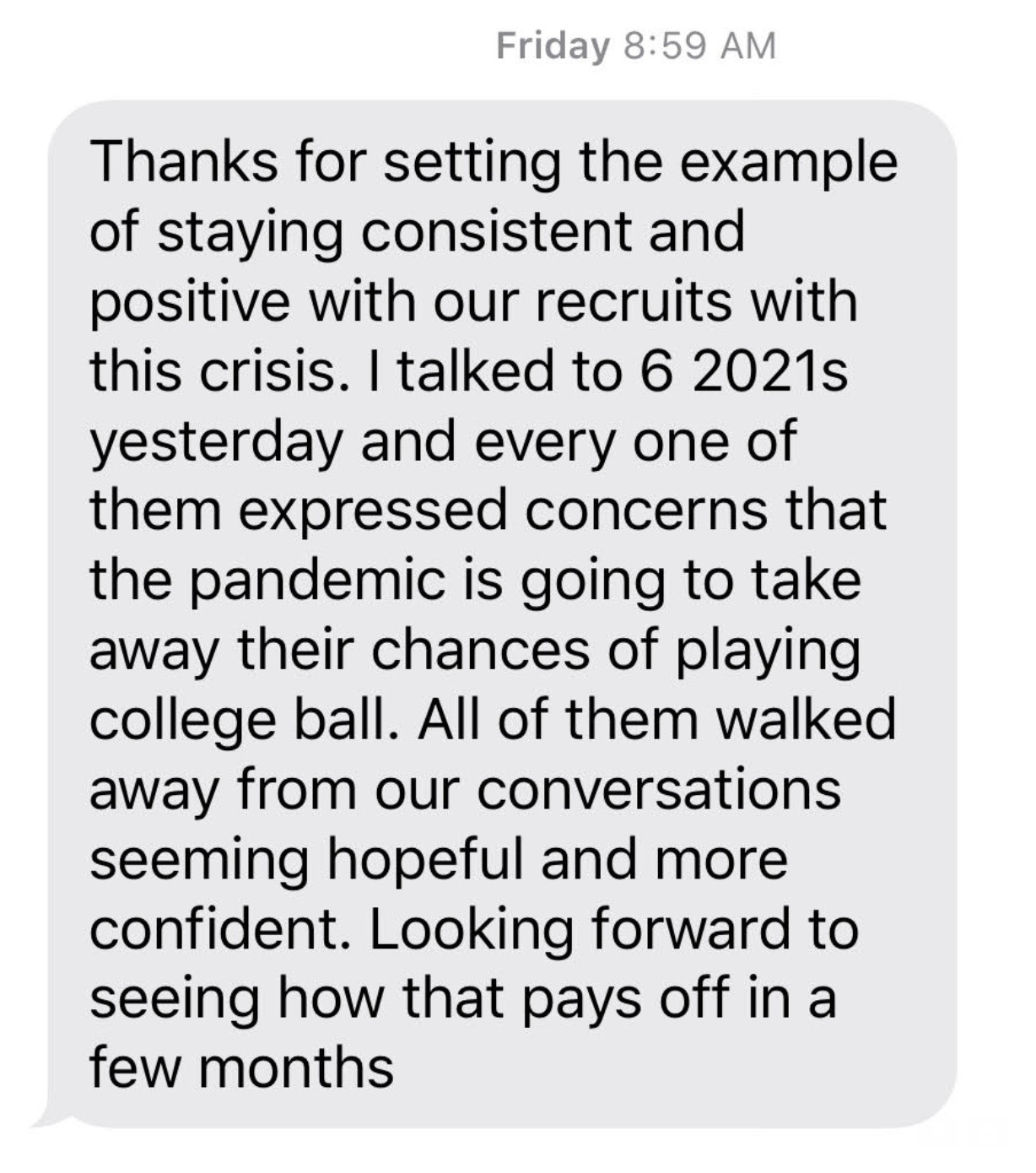 There are dozens of other smaller examples and conversations that lead me to understand that the coronavirus crisis hasn't just altered our eating habits, greetings, and toilet paper consumption…it's altering the way this next class of recruits approaches decisions.
It traces back to how our brains tend to cling to "availability bias" during a crisis: If I fear something that I need or want is not going to be available soon, I am more biased towards hoarding it to make sure I get what I want.
(If you want a full psychological explanation on it now that you have all this extra time on your hands, Coach, here's a great read).
What you do now will determine your recruiting outcomes
This is important, because you're not operating in a vacuum.
Other coaches are in conversations with recruits, moving the process forward, and getting very little resistance from recruits who might normally want to play in just one more tournament, or take two more last minute visits, before they reach a decision.
The fact that you are rushing to the supermarket at the same time everyone else is affects your toilet paper buying habits compared to normal times, and so does recruiting as you're reading this here at the tail end of March 2020.
Your recruits are stressed out and in full "availability bias" mode.

They are searching for the security of lots and lots of toilet paper.

They hear about other kids - their friends, teammates and competitors - making decisions earlier than anticipated because of this unexpected crisis.

As a result, your recruits are altering their previous plans and searching for the best available fix for their anxiety right now.
As I said at the start: I'm not making a case that this is good, nor am I suggesting it's a bad way to do it. But every day that goes by, I hear more and more instances of recruits making decisions to commit to programs who are asking if they're ready to commit.
And like it or not, that affects how you recruit moving forward.
If you haven't already, you and your coaching staff need to outline what your philosophy is going to be over the coming weeks and months.
Because if you don't…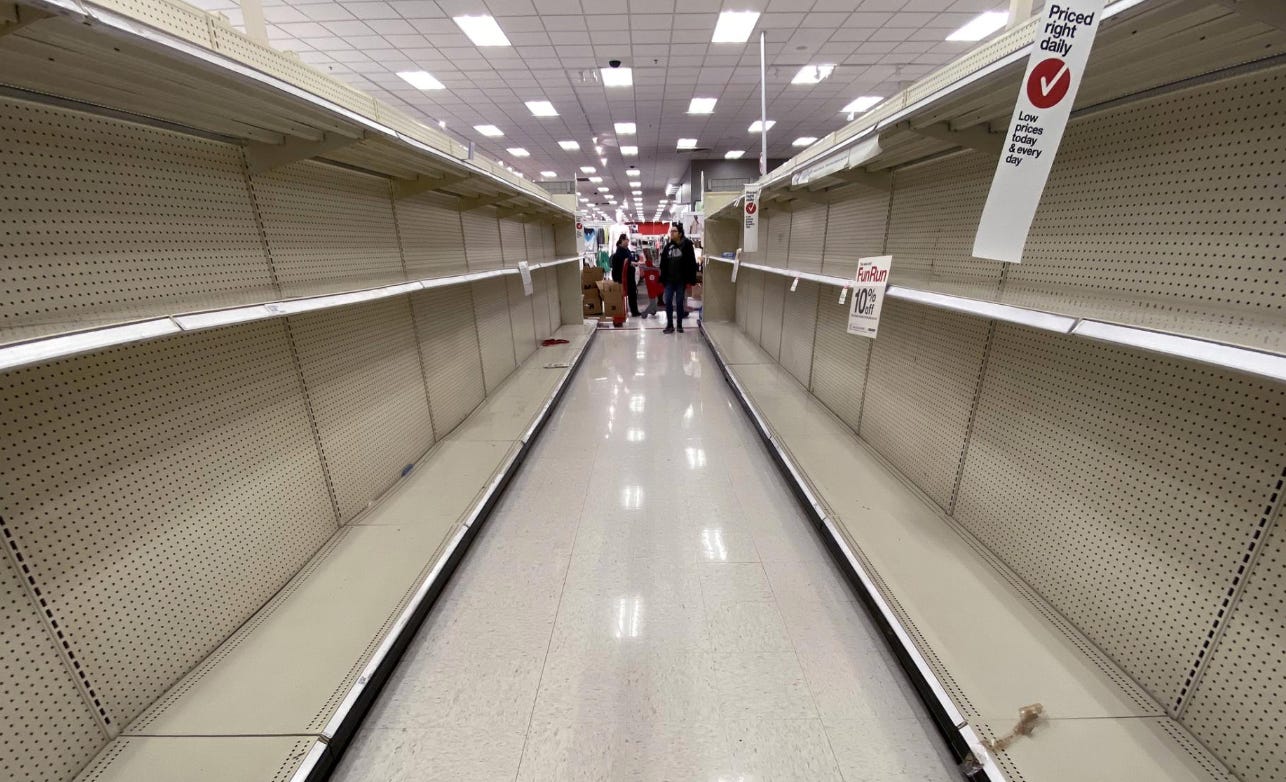 ---
If you haven't subscribed to this yet…
Please make sure you do. Even if it's just for the next one or two months. You can cancel anytime you want, but there are coaches who aren't doing what they need to be doing, and we're here to help fix that.
Our goal is to help college coaches understand the crisis and how it will affect their team, their recruiting and their coaching career. We're doing deep dives into topics you won't find anywhere else, and our clients and Honey Badger Recruiting subscribers are benefiting. We know not every coach will, but those that do are getting insider strategies and information…like these topics we've covered just in the past week:
It's a $29 investment into your career, and your next recruiting class. If you're feeling lost, and worried about how this will be affecting your program over the next year, this is an inexpensive fix.
We'll still be releasing a free article every 7 to 10 days, but this is designed as a real-time training and strategy regimen for coaches who are serious about being great at this part of their job, virus or no virus.
We'd love to have you join us, and take a honey badger approach to recruiting and developing your program.