Even in the midst of a pandemic, consistency is the key in successful recruiting
Most of my less than exemplary academic career involved me looking for shortcuts. I tried everything, short of sleeping with my textbook under my pillow in the hope that the information would magically seep into my brain.
Of course, there aren't any shortcuts to earning a degree (which I did, with a solid B average, thank you very much). Lesson learned: You have to study, day after day after freaking day.
Just like you have to recruit through delivering a story - consistently, over a long period of time - day after day after freaking day.
One of our clients continues to see the fruits of this strategy, as she told me in a text message yesterday: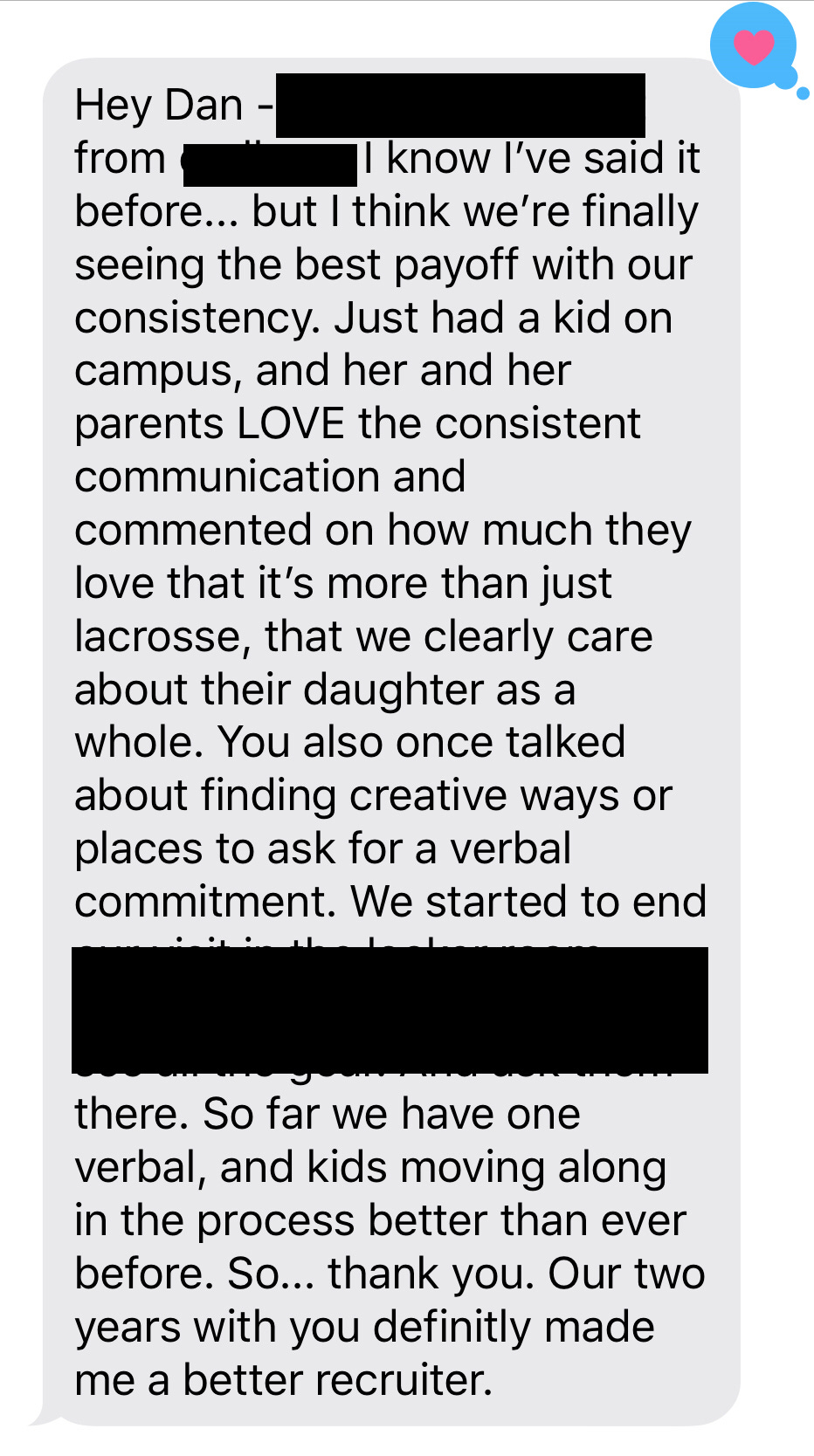 * The blacked-out section in the middle referred to a specific strategy we taught this client, so I didn't want to put it out there for the world to see and lessen it's effectiveness.
Consistency, along with talking about more than just the prospect's sport, is the key. It's the key to recruiting, just like it's the key to you enjoying a meal at your favorite restaurant - or, not enjoying it.
This is from marketing guru Seth Godin's blog today. As you read it, the 'customer' in his example is your recruit:
It's 2018, a special night out. The restaurant shouldn't have been as disappointing as it was. The room was beautiful, the staff was trying hard, the menu was ambitious–and yet it fell flat.

I realized that the problem is one that many of us face:

All shift long, there's a lot to do. Another plate to fire, another customer to serve, another plate to clean. And yet this customer doesn't care about all of that. For any given diner, this may very well be the only time he or she will ever eat here. For any given diner, this dish, this interaction–that's the only chance you're going to get.

It doesn't matter to them that you have 100 tops to serve in the next hour. It doesn't matter that the last week's worth of customers all left happy. To this customer, there's just this one time.

Over and over.

Just this one time.

Over and over.
That's what the coach who texted us is doing. An incredible experience, producing incredible feelings, over and over. And, doing it at a school that doesn't offer athletic scholarships and has a host of other unique and daunting hurdles associated with coaching and recruiting there.
It's not easy, but consistency works. And, it's what prospects today demand if we want them to say no to the easy, better known, or more successful programs, and yes to your program.
Over and over.
Just this one recruit.
Over and over.